10/31/16
Friday, October 28, 2016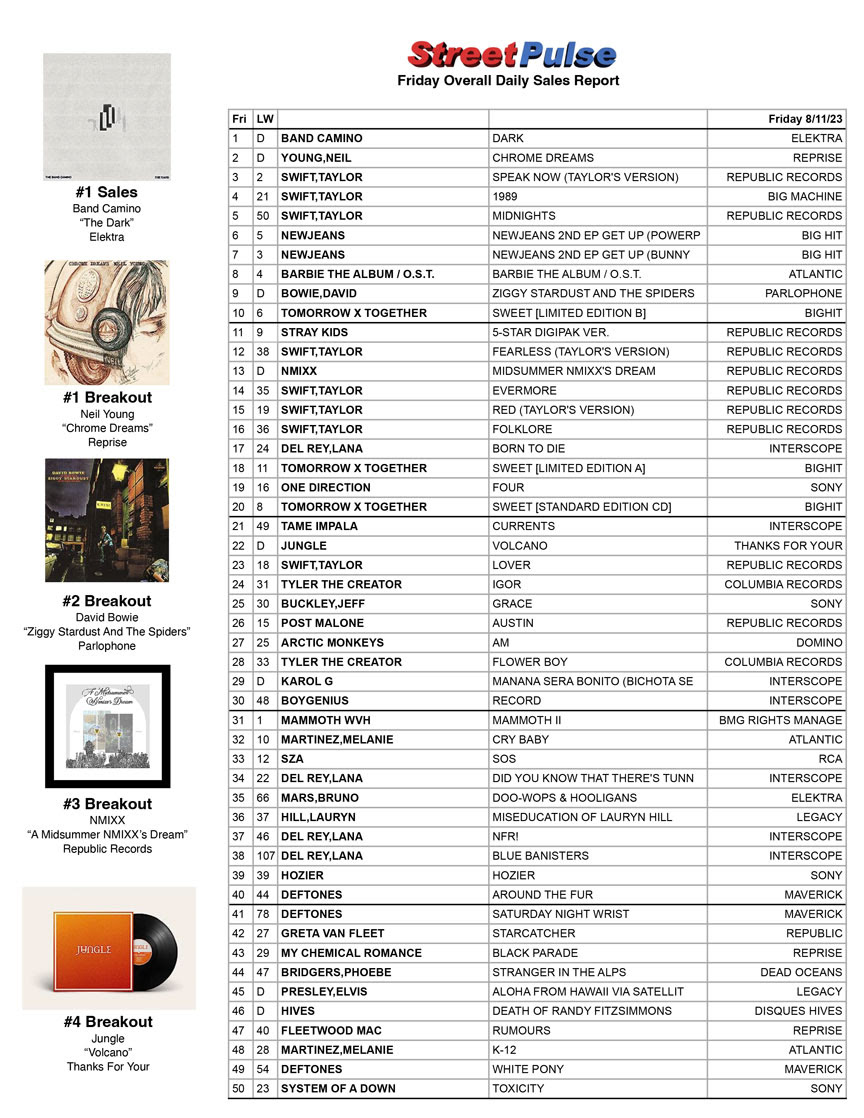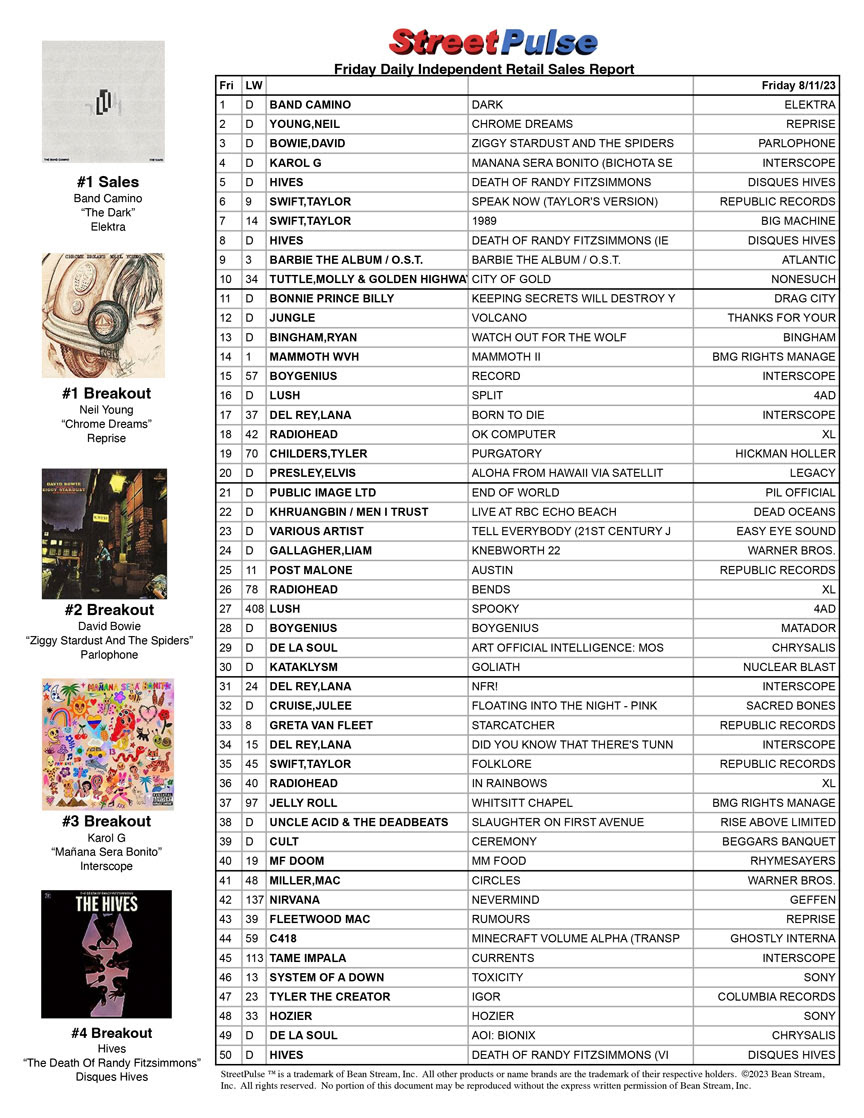 10/30/16
Week of October 21 – 27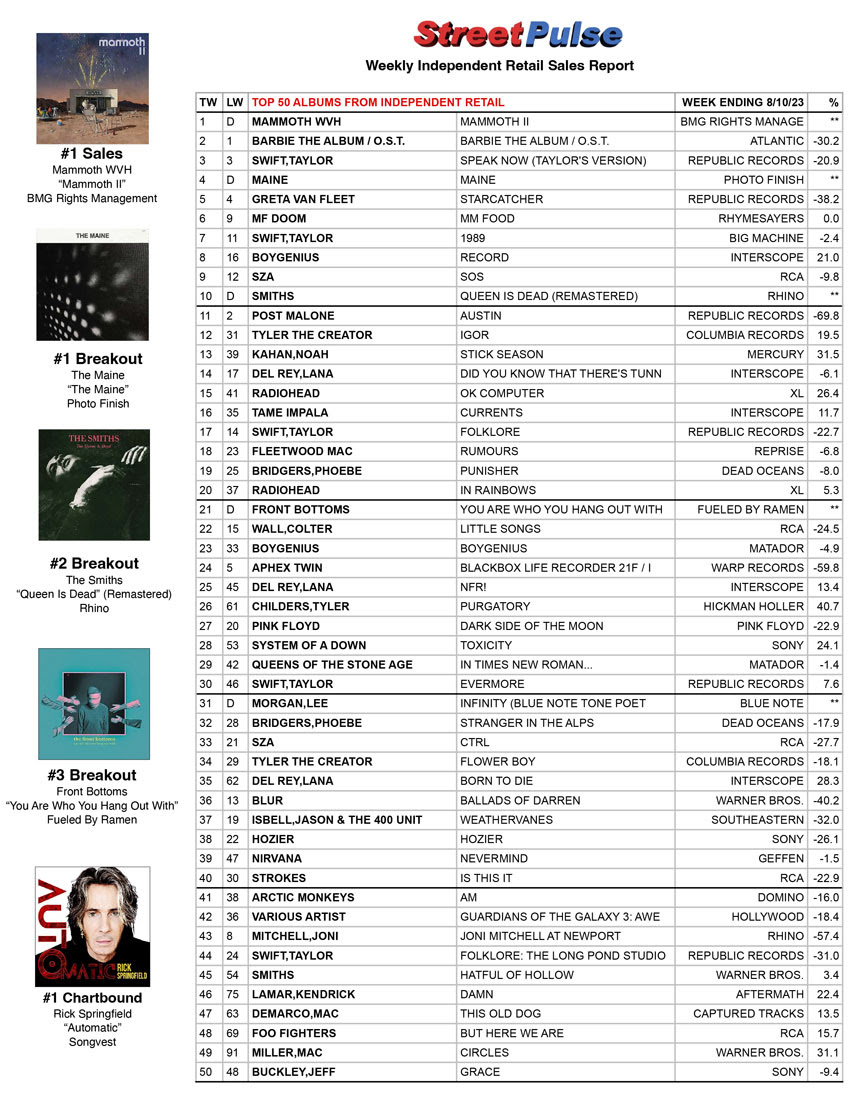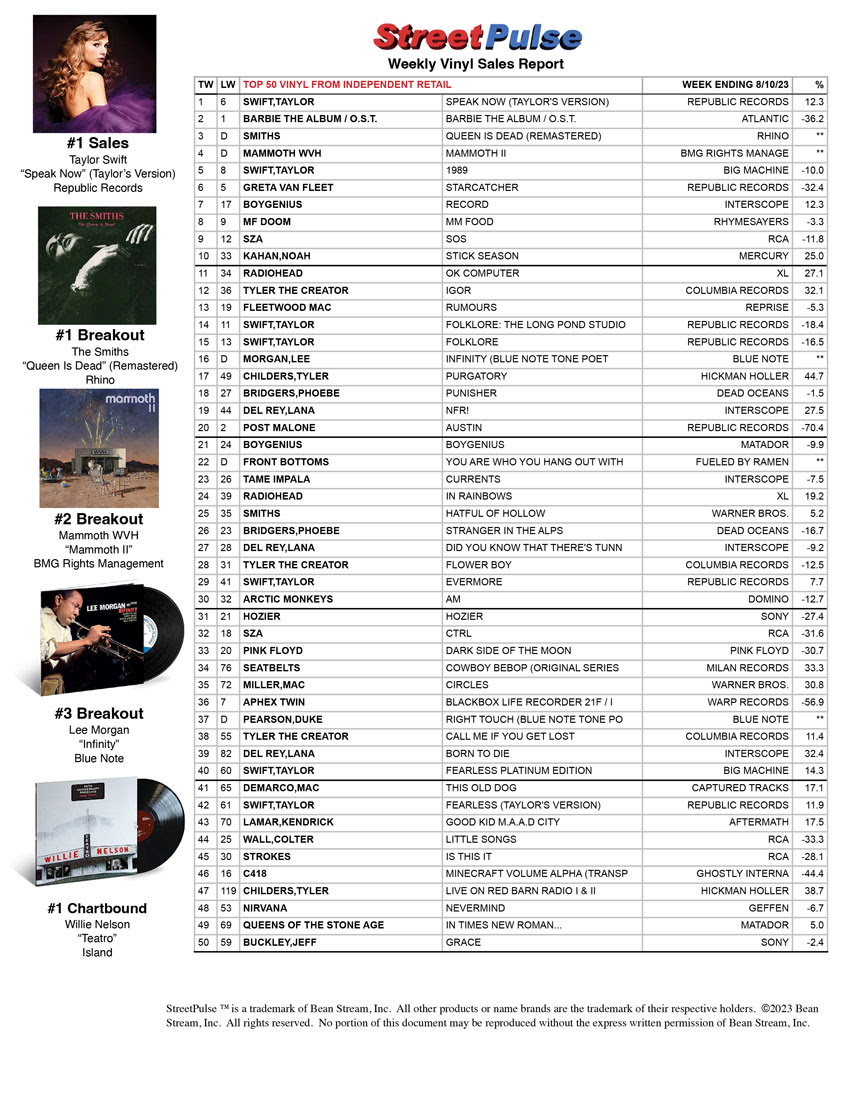 You are receiving the email because you have subscribed to this list.
If you would like to be removed, please click here and you will be removed immediately!
All Access Music Group – 24955 Pacific Coast Highway, #C303 – Malibu, CA 90265

Redistribution or repurposing of this email or its contents by any third party -– with the exception of authorized content providers involved in construction of this email — is strictly prohibited and in violation of the AllAccess.com Terms Of Service Agreement, without express written permission by AllAccess.com.
---
8/28/16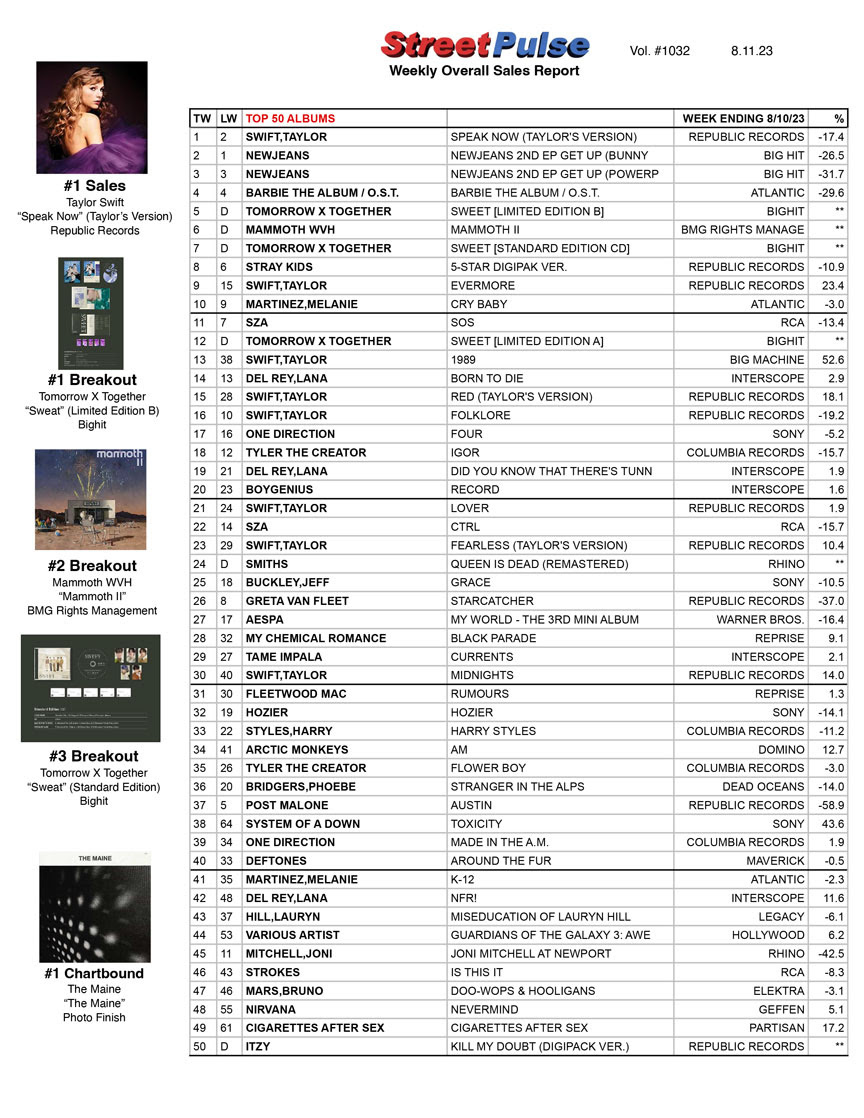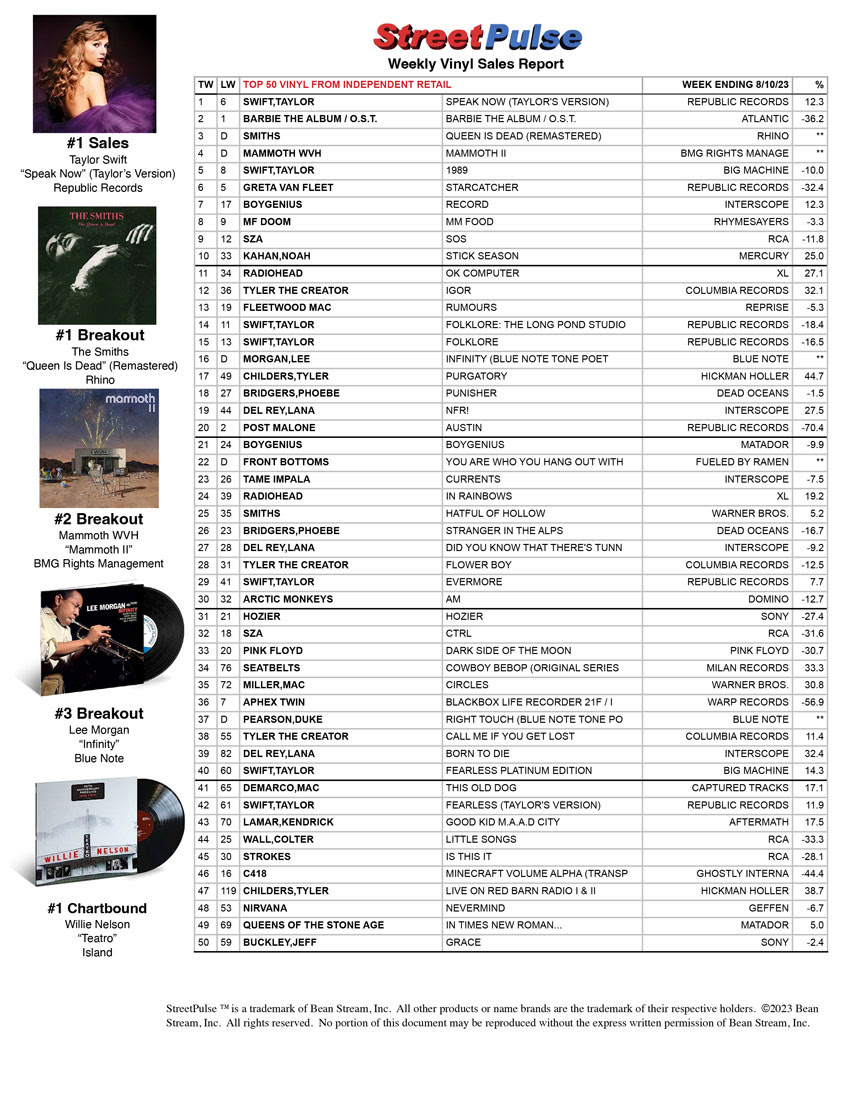 2/19/2014
Rhythmic

Building Chart : By Rank TW

lw: Feb 2 – Feb 4       TW: Feb 9 – Feb 11
Rank
Spins
Daily Spins
lw
TW
Artist
Title
TW
lw
Move
Sun
Mon
3
1
BEYONCE
Drunk In Love f/Jay Z
1726
1562
164
895
831
1
2
KID INK
Show Me f/Chris Brown
1674
1711
-37
861
813
4
3
PERRY, KATY
Dark Horse f/Juicy J
1401
1235
166
714
687
2
4
EMINEM
The Monster f/Rihanna
1338
1572
-234
688
650
6
5
YG
My Hitta f/Jeezy,RichHomieQuan
1196
1126
70
607
589
10
6
DERULO, JASON
Talk Dirty f/2 Chainz
1071
774
297
557
514
5
7
PITBULL
Timber f/Ke$ha
1004
1205
-201
521
483
7
8
TY DOLLA $IGN
Paranoid f/B.o.B
993
903
90
514
479
18
9
WILLIAMS, PHARRELL
Happy
792
479
313
404
388
13
10
LORDE
Team
773
663
110
394
379
8
11
DRAKE
The Language
718
789
-71
381
337
12
12
SOMO
Ride
712
679
33
345
367
15
13
BROWN, CHRIS
Loyal f/Lil' Wayne
707
576
131
366
341
11
14
COLE, J.
She Knows
663
756
-93
327
336
16
15
DRAKE
All Me f/2 Chainz & Big Sean
648
573
75
331
317
14
16
SEVYN STREETER
It Won't Stop
535
585
-50
271
264
17
17
SAGE THE GEMINI
Red Nose (Pitbull)
513
488
25
252
261
9
18
LADY GAGA
Do What U Want f/R. Kelly
498
776
-278
253
245
20
19
LEGEND, JOHN
All Of Me
495
426
69
246
249
26
20
SONGZ, TREY
Na Na
459
312
147
237
222
19
21
MARS, BRUNO
Young Girls
455
456
-1
235
220
28
22
BLACC, ALOE
The Man
431
276
155
215
216
23
23
LOVE, RICO
They Don't Know
417
371
46
211
206
22
24
T-PAIN
Up Down (Do This All Day)
337
391
-54
167
170
24
25
GOULDING, ELLIE
Burn
336
353
-17
175
161
21
26
ZEDD
Stay The Night f/H. Williams
323
425
-102
159
164
25
27
ONEREPUBLIC
Counting Stars
300
319
-19
155
145
27
28
HARRIS, CALVIN
Thinking About You
285
286
-1
144
141
31
29
DJ SNAKE & LIL JON
Turn Down For What
269
242
27
129
140
33
30
JAY Z
Part II (On The Run) f/Beyonce
253
190
63
131
122
34
31
AIKO, JHENE
The Worst
197
189
8
100
97
30
32
MIKE WILL MADE-IT
23 f/Miley Cyrus/Wiz Khalifa..
183
259
-76
91
92
36
33
QUE
O.G. Bobby Johnson
179
179
0
87
92
32
34
PAUL, SEAN
Want Dem All
164
209
-45
75
89
40
35
FAR EAST MOVEMENT
The Illest f/Riff Raff
151
119
32
79
72
29
36
FIASCO,LUPE
Old School Love f/Ed Sheeran
139
272
-133
62
77
42
37
GARRIX, MARTIN
Animals
125
102
23
65
60
38
38
SHAKIRA F/RIHANNA
Can't Remember To Forget You
122
128
-6
60
62
35
39
WILDS, MACK
Own It
114
188
-74
49
65
44
40
BELLINGER, ERIC
I Don't Want Her f/Problem
112
97
15
60
52
37
41
BEYONCE
XO
107
172
-65
45
62
39
42
ROSS, RICK
The Devil Is A Lie f/Jay Z
105
125
-20
47
58
45
43
NAUGHTY BOY
La La La f/Sam Smith
103
96
7
51
52
54
44
SCHOOLBOY Q
Man Of The Year
100
55
45
48
52
48
45
DAHLIA, KAT
Crazy
97
78
19
48
49
46
46
B.O.B
John Doe f/Priscilla
95
92
3
51
44
51
47
DJ INFAMOUS
Double Cup f/Jeezy, Ludacris
87
60
27
35
52
41
48
BEYONCE
Partition
82
116
-34
39
43
50
49
POSNER, MIKE
Top Of The World f/Big Sean
77
68
9
36
41
49
50
DRAKE
Worst Behavior
77
77
0
38
39
Top 40

Building Chart : By Rank TW

lw: Feb 2 – Feb 4       TW: Feb 9 – Feb 11
Rank
Spins
Daily Spins
lw
TW
Artist
Title
TW
lw
Move
Sun
Mon
2
1
PERRY, KATY
Dark Horse f/Juicy J
4805
4432
373
2490
2315
3
2
ONEREPUBLIC
Counting Stars
4347
4372
-25
2205
2142
4
3
GOULDING, ELLIE
Burn
4111
4168
-57
2097
2014
1
4
PITBULL
Timber f/Ke$ha
4018
4498
-480
1991
2027
5
5
ONE DIRECTION
Story Of My Life
3628
3564
64
1953
1675
7
6
LORDE
Team
3405
3031
374
1755
1650
9
7
A GREAT BIG WORLD
Say Something w/C. Aguilera
2896
2772
124
1539
1357
8
8
PASSENGER
Let Her Go
2775
2788
-13
1381
1394
10
9
BASTILLE
Pompeii
2729
2388
341
1379
1350
6
10
EMINEM
The Monster f/Rihanna
2602
3231
-629
1277
1325
11
11
DERULO, JASON
Talk Dirty f/2 Chainz
2450
2271
179
1191
1259
13
12
MARS, BRUNO
Young Girls
2027
1948
79
996
1031
20
13
WILLIAMS, PHARRELL
Happy
2021
1306
715
993
1028
14
14
NEWMAN, JOHN
Love Me Again
1896
1830
66
888
1008
16
15
CYRUS, MILEY
Adore You
1709
1676
33
801
908
12
16
ZEDD
Stay The Night f/H. Williams
1550
2185
-635
744
806
17
17
CASH CASH
Take Me Home f/Bebe Rexha
1502
1380
122
662
840
25
18
BLACC, ALOE
The Man
1490
982
508
808
682
21
19
LOVATO, DEMI
Neon Lights
1479
1275
204
667
812
22
20
ZENDAYA
Replay
1330
1224
106
624
706
24
21
HARRIS, CALVIN
Thinking About You
1164
1001
163
515
649
23
22
AVICII
Hey Brother
1158
1003
155
574
584
15
23
LADY GAGA
Do What U Want f/R. Kelly
986
1791
-805
349
637
27
24
SHAKIRA F/RIHANNA
Can't Remember To Forget You
974
854
120
452
522
29
25
AMERICAN AUTHORS
Best Day Of My Life
966
742
224
479
487
26
26
BAREILLES, SARA
Brave
934
959
-25
474
460
28
27
THE 1975
Chocolate
885
815
70
425
460
30
28
KID INK
Show Me f/Chris Brown
701
550
151
304
397
19
29
MACKLEMORE & RYAN LEWIS
White Walls f/ScHoolboy Q
691
1341
-650
278
413
31
30
GARRIX, MARTIN
Animals
651
516
135
277
374
36
31
BEYONCE
Drunk In Love f/Jay Z
571
275
296
293
278
18
32
BEYONCE
XO
569
1344
-775
192
377
32
33
MKTO
Classic
466
413
53
210
256
34
34
NAUGHTY BOY
La La La f/Sam Smith
442
354
88
222
220
33
35
WALLACE, CHRIS
Keep Me Crazy
418
363
55
184
234
39
36
LEGEND, JOHN
All Of Me
389
202
187
215
174
35
37
NONONO
Pumpin Blood
354
316
38
179
175
37
38
DJ SNAKE & LIL JON
Turn Down For What
316
250
66
148
168
38
39
IGLESIAS, ENRIQUE
I'm A Freak f/Pitbull
275
234
41
147
128
46
40
DISCLOSURE
Latch f/Sam Smith
203
95
108
96
107
40
41
CAMRYN
LoveSick
197
194
3
99
98
51
42
MAHONE, AUSTIN
Mmm Yeah f/Pitbull
185
74
111
91
94
41
43
DAUGHTRY
Waiting For Superman
170
182
-12
87
83
71
44
PARAMORE
Ain't It Fun
164
28
136
107
57
45
45
ICONA POP
Just Another Night
162
117
45
81
81
43
46
FRAY
Love Don't Die
151
153
-2
85
66
44
47
KARMIN
I Want It All
147
118
29
82
65
42
48
PANIC! AT THE DISCO
Miss Jackson f/Lolo
119
160
-41
63
56
48
49
NEON TREES
Sleeping With A Friend
107
79
28
55
52
47
50
O'DONIS, COLBY
State Of Mind
92
83
9
46
46